What the heck is Cupcake Wednesday?
Well, at the heart of it is the simple concept of random acts of kindness. But for a detailed explanation, we need to take a trip into the way-back machine and look a few years back in time.
Several years ago, Cinnabon released a short-lived line of cupcakes. On a whim, I sent a message to their social media person and asked if they would supply free cupcakes if I went around Toronto giving them out to people. There was some discussions on their part, but within a surprisingly quick amount of time, they jumped on board to supply 2 dozen cupcakes. I went around Toronto and had a fantastic time brightening people's days.
The next year, we did it again and for a charitable cause – The Daily Bread Food Bank. It was one of the most hectic days of my life, but one of the most rewarding. The end results was hundreds of dollars in donations and almost 500 pounds of food.
So, after a year or so off, it was time to get back to the adventure. It started off with my partner in crime, Cheryl Tan of Cheryl Tan Bakes:
We started off at the Toronto Police Headquarters (where everyone was AWESOME):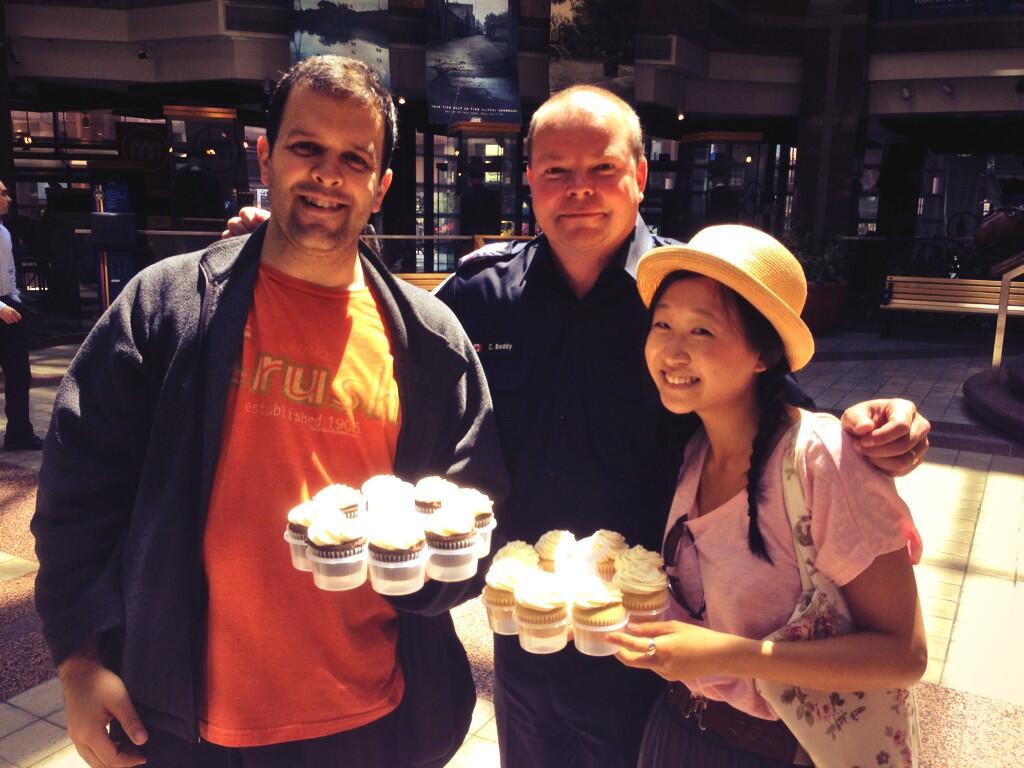 And proceeded to go all around Toronto, from Liberty Village…
To CSI Bathurst:
To OrangeYYZ:
And all sorts of places in between. We gave cupcakes to random strangers we passed and cupcakes to little kids on the Subway. We met tons of new people and made lots of new friends and ended up back at the Toronto Police Headquarters with a few extra cupcakes – they were happy to see us again: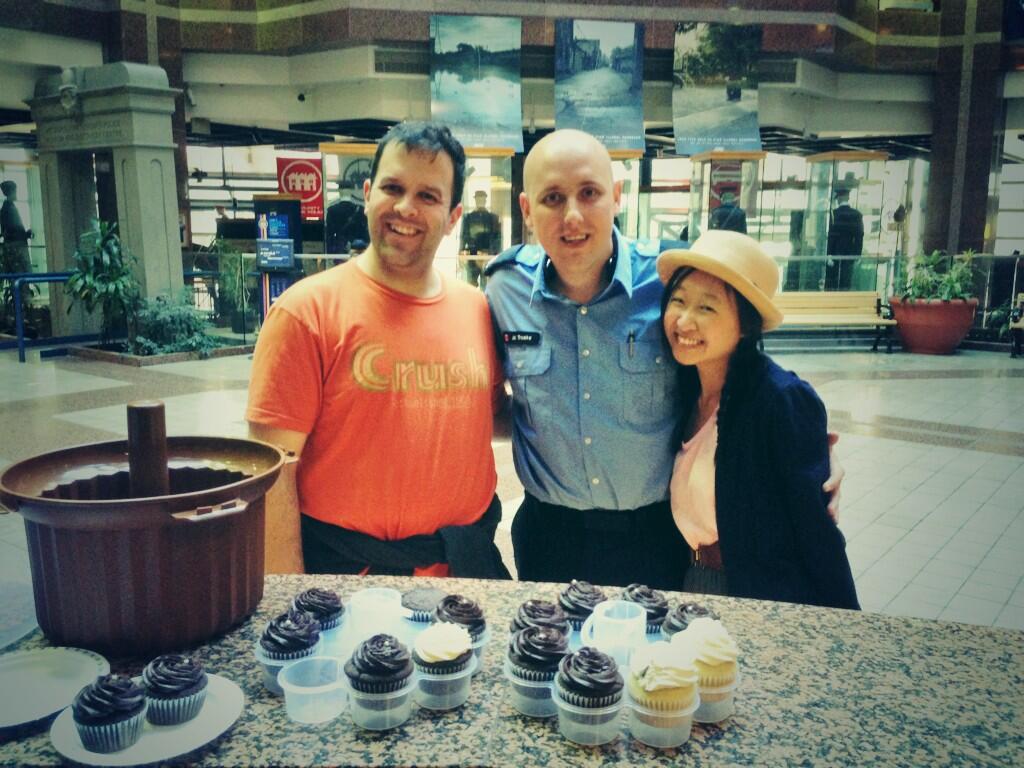 Why do I do this: I was asked this question a lot over the course of the day.
I do it because I can.
There are a lot of random bad things that happen in this world. I think there need to be random good things to balance them out. On days like this, I get to see everything that is amazing about Toronto. I see the absolute best of people. We travel around in a world filled with surprises, smiles and happiness. It's like Christmas and a few other holidays combined. I feel privileged to be a part of it all because it's really a magical experience!
To be honest, it's so amazing that I feel I should be thanking people for the chance to stop by and visit! I think I might have gotten the most enjoyment of anyone from the day!
So, to all the amazing people who trusted a random person off Twitter, thank you. Thank you as well to Cheryl who came along as a partner on this great adventure – your delicious cupcakes made the day the success that it was.
To everyone else, try doing a random act of kindness. It might feel like we live in a cynical world, but there are a lot of incredible people out there and the reactions you get will really blow you away.